OUR FAMILY
When a person marries, they become intimately entwined in two family histories, and it becomes impossible to think of one side of the family without the other. I am a DRISCOLL by marriage and feel blessed by the opportunity to be welcomed into such a proud and historic clan. This site contains the results of the work I have done on our family over the past few years.
Here is a glimpse of our family: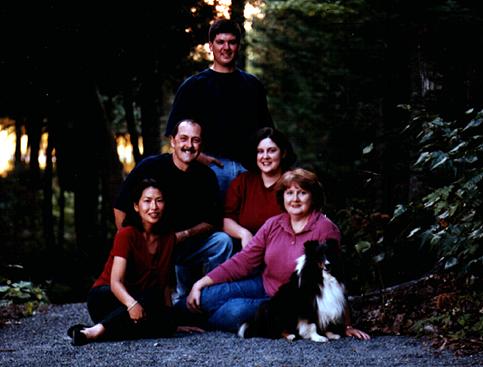 Husband:

Bruce Stewart DRISCOLL

Wife:

Marilyn Ann GAY

Children:

Dylan Bruce DRISCOLL (m)

Shauna Lee DRISCOLL (f)





Bruce and I live in the rural community of Burton, New Brunswick, Canada. We are both long-time provincial government employees and are now looking forward to our retirement sometime before 2010, we hope! We both love golf, gardening, and travel - not necessarily in that order. We live in an old country farmhouse situated on 2.6 acres of land which gives us plenty of room to indulge our gardening hobby. Until his sad passing in February of 2003, we shared our home with our tri-colour Sheltie (Shetland Sheep Dog) named Cody, who is shown with us in our family picture. He would have been 13 years old in June of 2003. He was a wonderful companion to us all of these years. We are currently sharing our home with a lovely, if slightly portly, kitty we called "Brandi" after we adopted her from the S.P.C.A. She was 6 years old at the time and had been at the shelter for several months. Although it took many weeks for her to really settle in, her full personality is now on constant display and she is the love of our lives (and, hopefully, we of hers!).
Our son, Dylan, and his wife Shirley live in Gander, Newfoundland where he is an air traffic controller and she is a teacher of special needs children. A new addition arrived in November 2003: Norah Ming Driscoll.
Our daughter, Shauna, lives in Fredericton, New Brunswick. She works as a Court Stenographer.
I hope you have enjoyed this brief glimpse into our family life and that you find some useful information as you connect to our ancestral family pages.
Our Family Lines:

Personal Links:

AMIRO

GAY

MARTIN