Going Home (160 years later)
Our 2001 Trip to Ireland
Although the Irish have been seafarers for centuries, the "Great Famine" made travelling by sea a necessity of survival in the mid-1840s. Many Irish made the trip to North America, settling in large numbers in the United States and in lesser, but still significant numbers, in Canada. As a result, the first of my husband's direct Driscoll ancestors to step on Canadian soil was his great-great grandfather, W. John Driscoll. Arriving in this country sometime in the mid 1800's, likely because of the potato blight in Ireland, he eventually married a Canadian-born woman, Lydia Mathewson of Ellershouse, Nova Scotia. Less than a century later, my husband arrived in the natural way, and probably announced it very vocally, certainly a Driscoll trait.
The area W. John came from was most likely West County Cork in Ireland. That area has been considered to be the "stronghold" of the O'Driscoll Clan for centuries, more specifically, the area of Baltimore, Cape Clear Island, and Sherkin Island where the ruins of several O'Driscoll castles can still be seen today.
| | |
| --- | --- |
| Having always longed to visit Ireland, I found the perfect excuse when I discovered that the O'Driscoll Clan celebrates annually, the last full weekend of June, with an O'Driscoll Clan Gathering. We collected our daughter, son and daughter-in-law and made the trip to Ireland in June of 2001. The Gathering itself starts on a Friday and ends on Sunday. You can read about our experiences at the Clan Gathering by clicking on the link in this paragraph, or by visiting The Driscolls of Canada website directly. | The gardens and thatched-roofed houses of Ireland are breathtaking. This postcard was printed and published in Ireland by John Hinde Ltd. The photography is by Martin Mullen. |
We began our Ireland vacation by driving to Halifax, Nova Scotia and catching the flight from there to Shannon, Ireland. We had a brief stopover in Saint John's, Newfoundland to pick up passengers. This is where our son Dylan and his wife, Shirley met up with us. We had a little time to kill at Heathrow Airport in England and then completed our journey to Shannon.


| | |
| --- | --- |
| This was the first time we ever saw this model of vehicle. Judging by the stares and giggles we got, we weren't the only ones! | On arriving in Shannon and clearing Customs, we picked up the vehicle we had booked. Since there were five of us we had asked for a van. Instead of a van they rented us a very unusual looking Fiat (Multipla). Indeed, this was a very new model and drew lots of attention for the few days we were driving it. |
Until arriving in Ireland I didn't realize that, for years, Shannon was basically just the airport and a small amount of housing. Now, the town itself, which lies just a few kilometers from the airport, is growing slowly and is Ireland's only "new town". It basically supports the airport staff but there are a few amenities to be found there. Ennis is actually the closest town, just a short bus ride from the airport.


| | |
| --- | --- |
| This picture gives a good idea of the width of many of the roads in Ireland. The postcard was designed,printed and published in Ireland by John Hinde Ltd. It is part of their "Ireland - People & Places" series. The photography is by Ron Sanford. | One of the first things you will experience when you visit Ireland is the driving. It wasn't difficult to get used to driving on the left hand side of the road but - Oh! those roads! With the exception of limited highways around a few of the larger centres, we had never experienced roads so narrow. Even with that, it wouldn't have been as hair-raising if there were shoulders on these roads. Instead, in the majority of cases, the roads were framed closely on either side by stone walls beautifully covered in wild fuschia and rhododendrons - lovely to look at, a little scary for those of us used to a little more room for our driving needs. Regardless, we were so totally charmed by the country itself that we soon forgot to be afraid and began driving like native Irish. |
We drove from Shannon down to Baltimore and spent the next few days of the Clan Gathering at Rathmore House, a welcoming bed & breakfast owned by Marguerite and Jeremiah O'Driscoll.
Rathmore House is just as charming in real life. I fell in love with the place through a photo I found on the internet and knew I just had to make it our base of operations during the Clan Gathering. My own photo looks just like the picture in the advertising.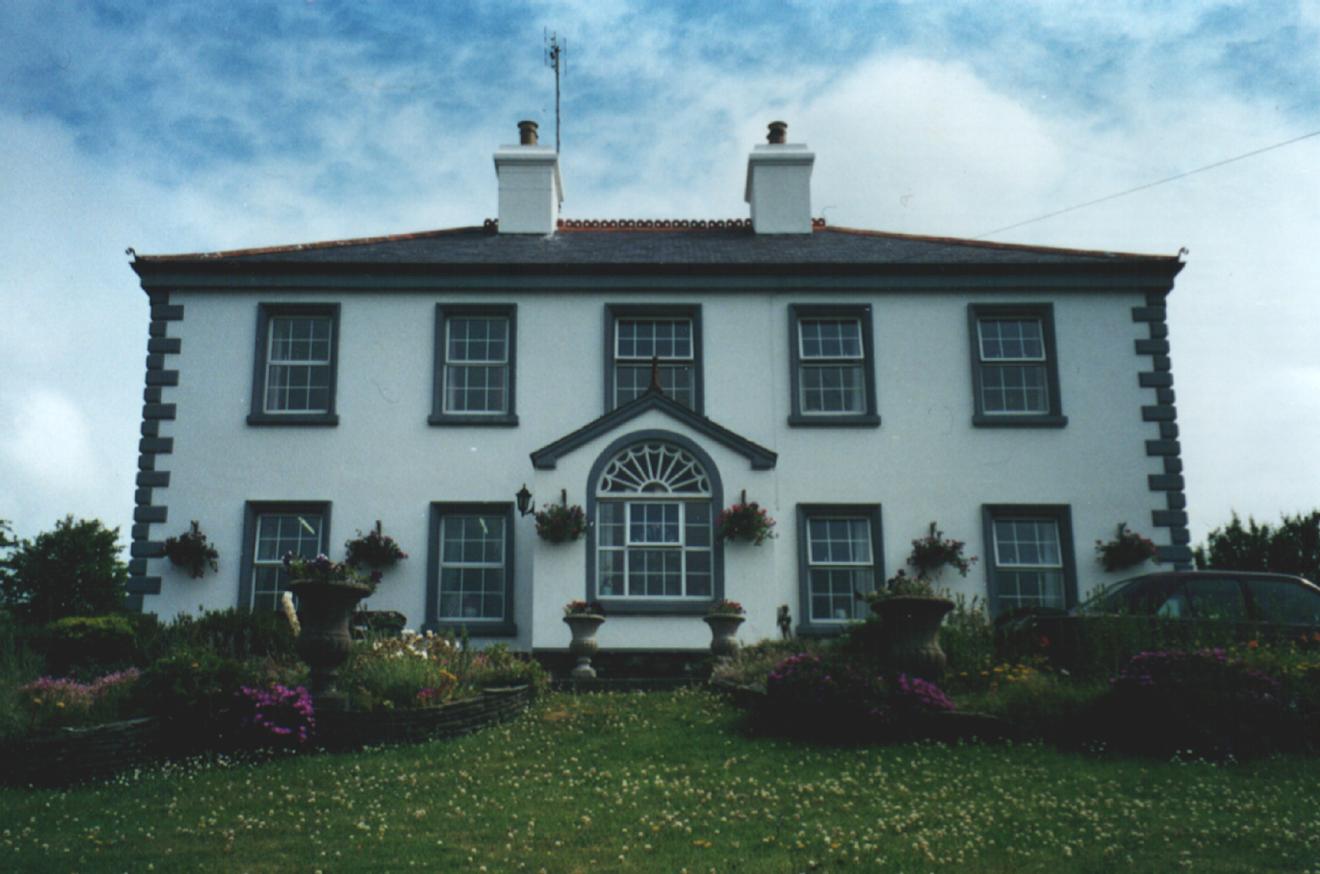 When the Clan Gathering sadly came to an end, we travelled back to Ennis where Bruce & Dylan dropped us "girls" at the hotel while they went on to drop the car off at the airport. They took the bus back to Ennis and we caught up with our tour group for the rest of our vacation.

Since this was our first trip to Ireland we decided that we would get a better view of the country by taking the "Best of Ireland" tour through Trafalgar Tours. We were more than pleased with our choice. In addition, thanks to the advice of our son and daughter-in-law, we bought a copy of the Lonely Planet guide entitled "Ireland." We found it an excellent reference book and recommend it highly. Now that we have a better idea of the various areas of the country, we will make the next trip (in 2003) on our own.

Our tour guide, Anna O'Kelly, was extremely knowledgeable about all of the places we visited, and our driver, Pat, was an expert at navigating the country "roads" and byways during our 11-day tour. During the bus ride from one area to another Anna kept us continuously entertained and informed. I spent the bus time furiously taking notes that formed the basis of the chronicle that follows.

NOTE: You will notice that I generously intersperse postcards with my own photos throughout my website. I have credited the publisher and photographer of the postcards in each case. I found through my travels that I was better off taking my own pictures only at times when I couldn't find an appropriate postcard or when I wanted to include my family or friends in the shots. Other than that, there was no way I could capture the beauty of this country better than the professional photographers as displayed in the postcards.




My "Best of Ireland" Tour Journal
Chapter 2: Ennis to Killarney
Chapter 3: Ring of Kerry
Chapter 4: Killarney to Waterford
Chapter 5: Waterford to Dublin
Chapter 6: Sligo
Chapter 7: Sligo to Galway
Chapter 8: Galway to Ennis